Food Kitchens (Dastarkhuwan)
Donate now from
£25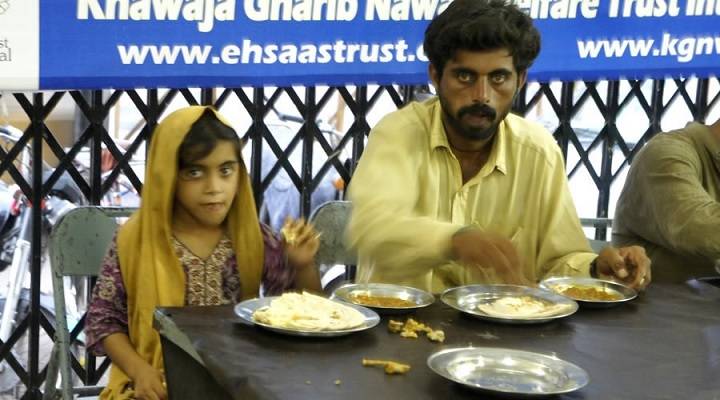 The WHO report 'Dying for a Change' states that lack of food is one of the most frequently mentioned wants. Hunger and malnutrition are seen as underlying causes of many diseases. They cause weakness and exhaustion, and make people more susceptible to infections. Many people in the developing world say they eat only once a day and sometimes have nothing for days on end.
Ehsaas has established 5 Food Kitchens (Dastarkhuwan) for the poor and those on low incomes.
To date, over 11.4 million meals have been served to the most needy
Ehsaas serves a nutritional and dignified meal (at least meat korma and naan) twice a day to approximately 6,000 people – with this number greatly increasing during Ramadan and Qurbani time.
---
Our Food Kitchens (Dastarkhuwan) are in:
Civil Hospital, Karachi
serves 2,000 meals daily and has served 2.34 million meals since Sept 2012
Pakpatan, Punjab
serves 2,000 meals daily and has served 2.1 million meals since Dec 2012
KGNWT Office, Karachi
serves 400 meals daily and has served 240,000 meals since Apr 2014
ARY Office, Karachi
serves 600 meals daily and has served 342,000 meals since May 2014
Peer Mahal, Punjab
serves 800 meals daily and has served 292,000 meals since Nov 2014